Oak Creek is a crystal clear stream that over millions of years formed Oak Creek Canyon as it dropped steeply from the top of the rim near Flagstaff, Arizona down through Sedona, Arizona. Oak Creek meanders through the narrow gorge of steep canyon walls.
The waters of Oak Creek descend about 2,000 feet through the lush forested and winding landscape through Sedona. The greenery of Oak, Aspen, and Oak trees, colorful foliage of springtime wildflowers or the golden leaves against red rock canyon walls is breathtaking.
At various points the creek moves rapidly and can become a torrent of overflowing waters during heavy rains and snow melt-off from the higher elevations. At other spots, the creek slows to a crawl and even pools into swimming holes.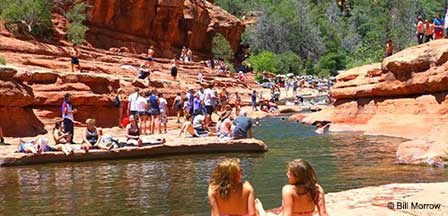 Oak Creek could be one of the most scenic fishing spots in Arizona and is stocked with Rainbow Trout. The famous Slide Rock is about mid-way between the top of the canyon and Sedona. Slide Rock is a natural water-slide where enthusiasts slide down the creek and then get out, trek back up and slide down again and again.
The creek is lined on both sides with cabins, lodges, cottages and bed and breakfast inns that are romantically set among some great campgrounds, fishing spots, swimming holes and hiking trails like the West Fork Oak Creek Trail. There are several pull-off view points along the creek which runs about 14 miles from the canyon rim to Sedona.
Oak Creek Facts
Location: Oak Creek Canyon begins about 14 miles south of Flagstaff on paved roads.
Access: Drive south from Flagstaff on US 89A. About 14 miles down the road you reach the edge of Oak Creek Canyon before it drops nearly a thousand feet down a series of switchbacks to the canyon floor and continues for 13 more miles beside cool, clear Oak Creek. You can turnaround and go up the canyon for a different perspective.
Campground Season: Early Spring through mid-Fall (or first snowfall). Manzanita Campground is open all year.
Attractions: Fishing, Swimming, Slide Rock State Park, Hiking, Biking, Sightseeing, Wildlife Viewing and Photography.
Facilities: 5 developed campgrounds, 5 picnic areas, hiking trails, developed services and Interpretation at Slide Rock and Red Rock State Park.
Notes: During late spring and the summer months, Oak Creek Canyon can become very crowded when temperatures become ideal. The campgrounds fill early during these periods. Note that glass containers are not permitted at Slide Rock State Park.
Additional Sedona Area Information
Map & Directions Oak Creek Trail
Oak Creek Canyon Map & Directions
Oak Creek Canyon Photos By Koopsen
Oak Creek Canyon Vista Point
Sedona Aerial Photos By Koopsen
Sedona Winter Photos By Koopsen
Verde Canyon Railroad