Mystical Vortexes in Sedona, Arizona
Sedona, Arizona is a city of outstanding natural beauty, famous for its red sandstone rock formations - buttes, blue skies, and canyons. It's also a spiritual hot spot. Visitors flock to admire the scenery, and in the process some of them come away with a spiritual or psychic boost as well. Sedona, located at the mouth of Oak Creek Canyon, is home to "vortexes", mysterious areas of concentrated energy to which seekers of enlightenment are drawn.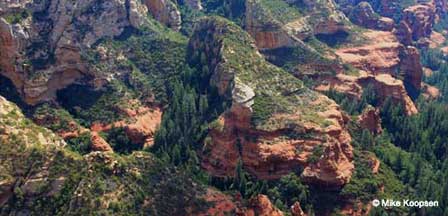 It's believed that vortex energy encourages healing, is an aid to meditation, and encourages feelings of wellbeing. The New Age industry that's sprung up as a result encompasses vortex tours, artists, crystal healing and a wide range of alternative practitioners.
The term vortex, as it applies to Sedona, was coined by Page Bryant, a medium who began nvestigating local sites sacred to Native Americans in the early 1980s. Sedona's "vortex tourism" industry may only have existed for a few decades, but the special properties of the sites have been known to local tribes for generations.
Debate rages as to what the vortex energy is, exactly. It could be electro-magnetic, emanating from the earth's core. Some people think the energy exists in another dimension but that it somehow crosses over into our world.
Most Popular Vortex Sites
Cathedral Rock - is found on Lower Red Rock Loop Road - the rock structure resembles an al fresco sandstone cathedral, endearing it to those of a spiritual bent.
Bell Rock - situated next to the Village of Oak Creek - the bell-shaped sandstone gives the rock its name.
Airport Mesa - this vortex is in the vicinity of uptown Sedona, and boasts wonderful views.
Boynton Canyon - is located off Dry Creek Road. It's the hardest site to get to - a 90 minute hike both ways.
The Chapel of the Holy Cross, Schnebly Hill, and West Fork are other well-known vortex sites in the Sedona area.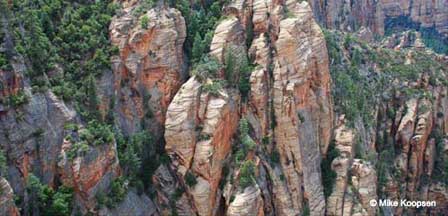 You don't need to do anything special when you get to a vortex; just sit quietly. Some people meditate or pray. The energy is supposed to permeate the entire area of each site, so you don't need to find Vortex Central to experience the benefits. And what might you experience? Joy, a feeling of being close to God, physical and mental healing, serenity, emotional release; the responses vary as much as the individuals who go there.
There are guided vortex tours you can take; or you can set out on your own with a hat, sturdy walking boots, sunscreen, water and a vortex map. Check out Sedona's bookstores for vortex guidebooks and maps. If you're after a guided tour, click here for a list of Sedona vortex tours.
Whether you visit Sedona's vortexes to reap their spiritual benefits, or just for the experience of being in a spectacular landscape, they're well worth your time. Take a hike through Sedona's spectacular red rock scenery and you'll feel uplifted whether you find an energy vortex or not. Visit the Dream Sedona website where you will comprehensive information about Sedona including hotels, attractions, tour companies, restaurants and a wealth of tourist information.
Getting To Sedona From Phoenix
Travel north on I-17 towards Flagstaff about 90-98 miles. Take Exit 298 onto State Route 179. Proceed about 14 miles to State Route 89A. You'll find yourself in the center of Sedona action.
Getting To Sedona From Flagstaff
There are two routes from Flagstaff. If the weather is good, you'll love the scenic drive down Oak Creek Canyon to Sedona. From I-17, take Exit 337 which is US 89A. Go south on 89A through a breathtaking journey through Oak Creek Canyon. The trip usually takes about 45 minutes to Sedona from Flagstaff.
If the weather is poor, take I-17 south from Flagstaff about 40 miles and take exit to State Highway 179 east for about 15 miles to Sedona. This trip takes about an hour.
More Information
Additional Sedona Area Information
Map & Directions Oak Creek Trail
Oak Creek Canyon Map & Directions
Oak Creek Canyon Photos By Koopsen
Oak Creek Canyon Vista Point
Sedona Aerial Photos By Koopsen
Sedona Winter Photos By Koopsen
Verde Canyon Railroad
The Wonder Of Sedona & Oak Creek