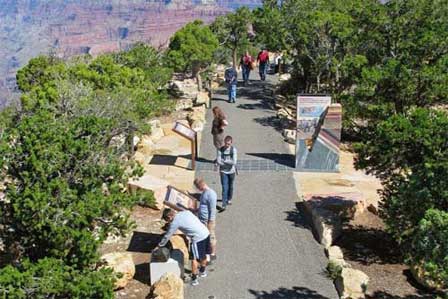 Trail of Time On Rim Trail. Credit: NPS
Experiencing the Rim Trail is a must when visiting the Grand Canyon South Rim. It's a no-hassle, easy way of enjoying spectacular views at your own leisurely pace. The Rim Trail is 13 miles long (19km) and you can choose what portions to stroll. The trail connects Grand Canyon Village to Hermits Rest to the west and Yavapai Point and Mather Points to the east.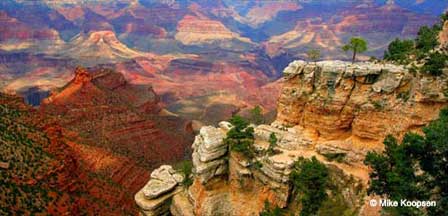 The Rim Trail follows the edge of the canyon rewarding with amazing views, In some cases, you are right on the canyon edges while other trail portions may have obstructed views. The trail is heavily shaded with only a 200 foot elevation change over its entire length making for an easy, enjoyable walk or run. Biking is not permitted on the Rim Trail.
If you're a quick walker, you could cover the entire trail in 1.5 hours or you could easily stretch the experience into an entire day giving you the chance to relish its many view points, visit the museums along the way and take photos at your leisure. About every mile and one-half there is a free shuttle stop, so you can jump on or jump off the shuttle to modify the length of the excursion.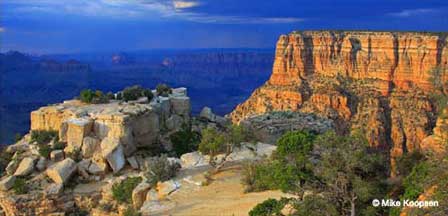 After parking at Grand Canyon Village or Market Plaza, it's a short walk to about the center of the trail. You can choose to begin walking east or west, or take the free shuttle to begin your hike from the extreme point of either side. Bring a quarter to purchase an interpretive trail guide at various path-side stanchions that defines points of interest along the trail.
Most of the trail is handicap accessible, but there is a very short span of dirt path on the Hermit Rest (west side) that may create minor difficulty. There is no water along the trail except at the Kaibab Trailhead, Yavapai Point and at Hermits Rest. So be sure to bring plenty of water and dress in comfortable walking attire. See our South Rim Weather and Temperature Chart.
A great way to enjoy the trail is packing an early morning breakfast on the go and find the best place to experience the serenity of an early morning sunrise. Pack a lunch and stop for a picnic at a nice view point. Or hike later in the evening when it's picture-perfect quiet and wait for the most beautiful sunsets as the sun disappears over the west horizon.
Related Reading and Information