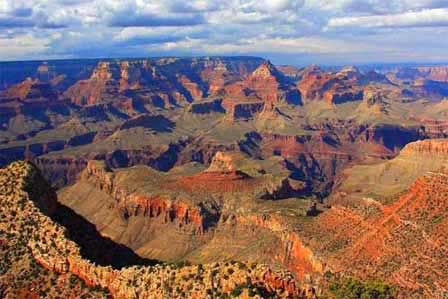 Grandview Overlook Point. © Mike Koopsen
Grandview Point is the southernmost lookout point at the South Rim of the Grand Canyon. At an elevation of about 7,400 feet, Grandview gets a bit more rainfall than other overlook points which is why it has a more dense forest of pine and oak trees. Although the trees do obstruct the views somewhat, it also creates a more tranquil environment.
The Grandview Trailhead is located at Grandview Point. The trail is very steep and can be a bit treacherous during winter snow and icy conditions. However, the best views of the canyon can be found a short distance down the trail. But always use caution, particularly during snow and the rainy season.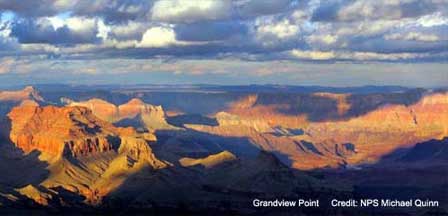 Grandview's Historic Story
During the 1890s, gold, copper and silver mines were just below the rim at Grandview Point. One of the mines' owners built the Grandview Hotel and the first tourist services at this point at the South Rim in 1895 while another owner built the Cameron Hotel near the Bright Angel Trail at the Grand Canyon Village soon thereafter. Neither hotel exists today.
Location of Grandview Point
Grandview Point is located at the end of a one-mile side road on the north side of Desert View Scenic Road (Highway 64) about 12 miles east of the Grand Canyon Village and about 12 miles west of the Desert View East Entrance. Public parking is available and the Grand Canyon Shuttle Buses do not service Grandview Point.
Desert View Drive Map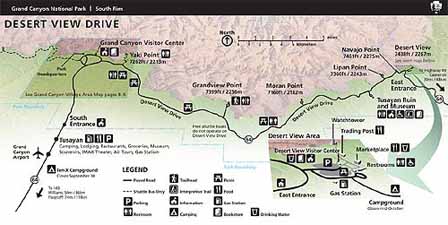 Related Interest and Information
Grandview Trail Day Hike
Average Annual Temperatures
South Rim Panoramic Map
South Rim RV Parks & Campgrounds
Visiting During The Winter
Next South Rim Overlooks
To The West: Shoshone Point
To The East: Moran Point