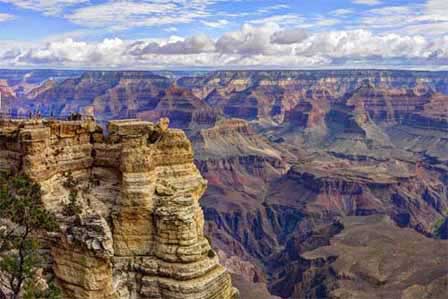 Picture of Mather Point. Credit: NPS
When tourists enter from the South Main Entrance to the South Rim, the usual initial destination is the Visitor Center Plaza and its public parking lots. For those tourists seeing the Grand Canyon for the first time, Mather Point Overlook is the first view of the immensity of the canyon. It's an easy walk from the parking lot to Mather Point. If you've packed a picnic lunch, it's a great place to relax after a long drive. Kickback and relish that first magnificent view.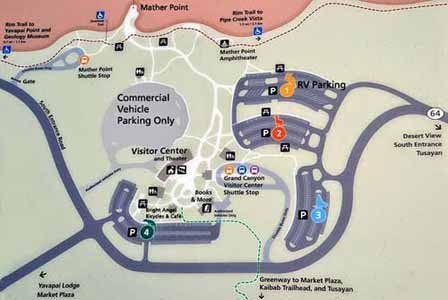 Visitor Center and Parking Near Mather Point. © Credit: NFS
Gaze across the canyon to the North Rim. Although the other side is only about 10 miles as the Condor flies, it would take driving 212 miles to reach the other side. Peer down to the bottom of the canyon which is about a mile deep at this point. Just imagine that it took 6 million years for the Colorado River to carve the canyon as it flowed another 500 miles to reach the Sea of Cortez at the Pacific Ocean.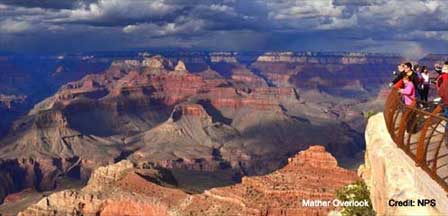 Mather Point is the most visited overlook point and the most congested. If you've arrived at Mather Point during the day, return just before sunset in the evening or sunrise the next morning when the changing colors create amazing views. Of course any points along the Rim Trail are great spots to see the dancing array of colors.
Since you've now been introduced to the amazing scenes to expect during your upcoming exploration of the Grand Canyon South Rim and its incredible experiences, consider making your way back to the Visitor Center. Explore the outdoor and indoor exhibits. Pickup maps and ask questions about the best way to enjoy your visit.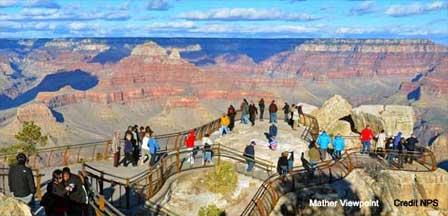 Rangers will be glad to provide answers to your questions and to explain the Free Shuttle Bus System that will conveniently take you to and from various points in the Grand Canyon Village and the other overlook points. You are in for the time of your life.
Mather Point Video
A must watch. A great overview of what to expect at Mather Point at the Grand Canyon South Rim by Jarvie Digital who suggests tips for getting the right photos. Mather Point Overlook includes a portion of the Rim Trail so there are many places to take photographs. Come back in the evening for a great sunset or early in the morning for sunrise at Mather Point.
Grand Canyon Visitor Center Parking Video
Interesting Information
Mather Point Campground
Weather at the South Rim
Mather Point Map Location
Grand Canyon Animals
Map and Directions To The South Rim
Next South Rim Overlooks
To The West: Yavapai Point
To The East: Yaki Point