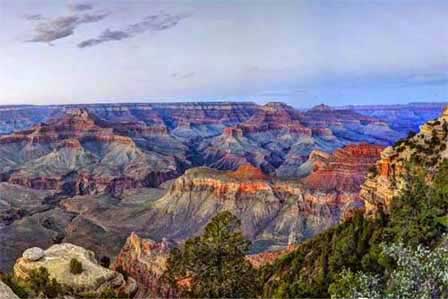 View From Yaki Point
If you are an early morning or late evening person, Yaki Point is the ideal overlook to enjoy a sunrise or sunset over the Canyon. It is an perfect location for shooting picture-perfect views of the dramatic and vivid color changes as the sun rises and sets over the immense beauty.
Yaki Point features different views versus those overlooks at Mather Point and Yavapai Point. Yaki Point juts out over the canyon featuring wide panoramic westward views that encompasses the end of Bright Angel Trail and close views of the switchbacks that begin South Kaibab Trail.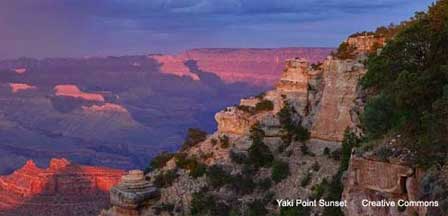 Accessing Yaki Point
Because of congestion, public parking access at Yaki Point is prohibited. However, as the easternmost lookout point, it is served by the Free Grand Canyon South Rim Shuttle Bus System.
See the "Orange Service Route" on the shuttle service map that also connects Yavapai Point, Mather Point, Pipe Creek Vista, and the South Kaibab Trail with the Grand Canyon Visitor Center Parking Lots. The shuttle bus system operates all year.
Tourists can jump-on or jump-off the shuttle bus at the various stops and spend as much or as little time at each point as preferred. Buses run every 30 minutes between 4 AM and 6:30 AM and then every 15 minutes from 6:00 AM to One Hour After Sunset. For the last bus of the day, be at a bus stop no later than 30 minutes after sunset.
Yaki Point Photo Gallery
Yaki Point. Credit NPS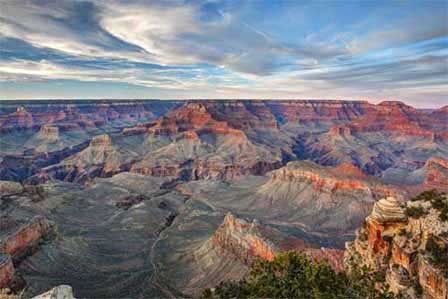 View West of Bright Angel Trail From Yaki Point. © Martin Konopacki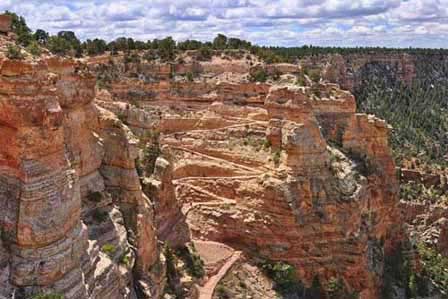 View of Kaibab Trail Switchbacks From Yaki Point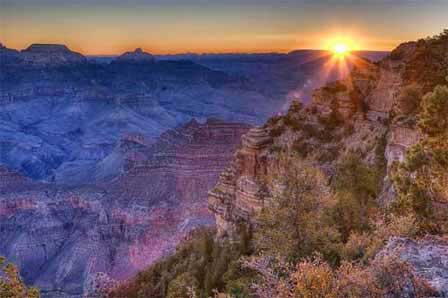 Sunrise at Yaki Point. © Anita Ritenour
Relevant Information
Average Annual Temperatures
Map and Directions To Grand Canyon South Rim
Visiting Grand Canyon South Rim During Winter
RV Parks and Campgrounds
Next South Rim Overlooks
To The West: Mather Point
To The East: Shoshone Point